Columns - The Jock Strip


By Greg Turner and Ken Karl
Sunday, June 15th, 2003

Print
Recommend

This week: "Husky Meat"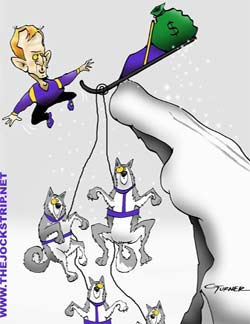 New cartoons are added every Sunday.
The Jock Strip is a sports editorial cartoon series "for the athletic supporter" and is the creation of Portland, Oregon's Greg Turner and St. Louis, Missouri's Ken Karl. Their cerebral, often hilarious, take on what's happening in popular sport culture is a colorful addition to any sports fan's day.
These two self-proclaimed jocks have teamed up and combined their love of sports and drawing to give you The Jock Strip right here at Sports Central.
Both Greg and Ken have professional art backgrounds. Greg, as an Art Educator and Custom Artist/Photographer, and Ken, as an Illustrator for St. Louis's very own St. Louis Sportswear. The Jock Strip welcomes your comments and ideas at [email protected].


Previous Strips
Back to Home